[vc_row][vc_column offset="vc_hidden-lg vc_hidden-md vc_hidden-sm vc_hidden-xs"][vc_column_text]
Email [1] – 
[/vc_column_text][vc_separator][/vc_column][/vc_row][vc_row][vc_column]
[vc_column_text]
Distance adoption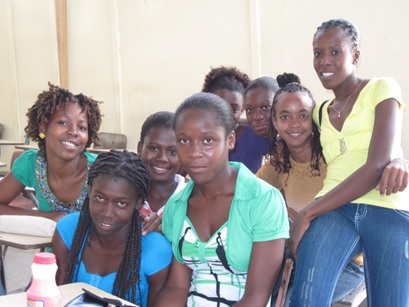 Haiti is a country rich in natural resources but the poorest economically, in January 2010, the earthquake destroyed the country and has claimed thousands of victims.
The mission of the FMA was born July 16, 1997, there are 15 Haitian communities, with 81 nuns and 6 novices who deal with education and training of children, youth and adults, with a special focus on women.
The Haiti project is to distance support of children followed by the FMA community in removing children from the streets and build an educational and recreational facility (see micro Advent Solidarity), in giving women the opportunity to meet and learn a job a professional center of cutting and sewing.
As for the distance support, specifically it helps a child allowing him to be educated and cared for in their own land. You can receive a second meal a day (the school provides one alone, a plate of polenta and rice), doctor visits, prescription medicines, books and school lessons and a pair of shoes.
Often children send drawings and letters in Italy for their sponsors, which Vides Veneto transmit via mail and e-mail. Also the Italian kids can send to their brothers across the ocean of thoughts (letters-disegni..ecc).
The donated money is paid by the deadline which is believed monthly, half-yearly and yearly. The contribution is collected from Vides Veneto and sent three, four times a year to Sr. Mariangela Fogagnolo.
Donors of donations made in cash for an amount not exceeding € 2,065 per year, can take advantage of the deduction of 26% of their gross tax (ex. Art. 15 co. 1.1 DPR. 917/1986). It will be provided to them on request, a declaration of donation receipt, upon notice by e-mail personal or entity data (in case of legal person): full name, address, social security number, e-mail and telephone.[/vc_column_text][/vc_column][/vc_row][vc_row][vc_column][vc_column_text][/vc_column_text][/vc_column][/vc_row][vc_row][vc_column]
This year the Vides Veneto offers a training course to voluntary…
[/vc_column][/vc_row][vc_row][vc_column][vc_column_text][/vc_column_text][/vc_column][/vc_row]